Image Gallery: The Missouri Pacific Hospital
Vintage Photos
These great photos of the Missouri Pacific Hospital at St. Louis appeared in a feature article in The Railway Surgeon in 1897. They provide a rare glimpse into the world of a large railroad hospital at the turn of the century.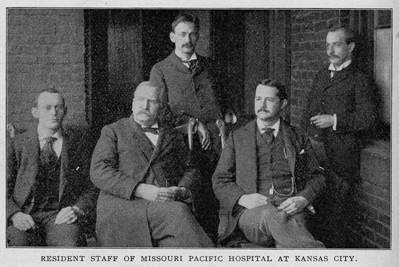 The Missouri Pacific Hospital, like many railroad hospitals, trained medical residents such as this dapper group, above.
Below, employees show off their well-stocked pharmacy.
Source: The Railway Surgeon 1897;3(22); 1897;3(23)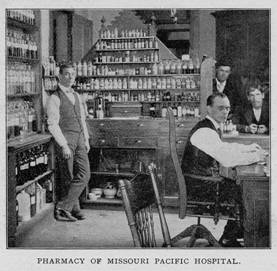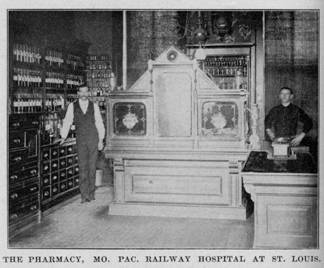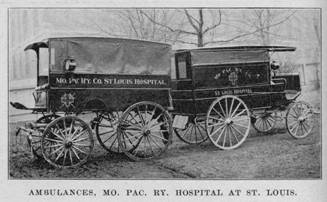 Horse-drawn ambulances such as those shown below would meet trains carrying injured persons, and transport them to the hospital.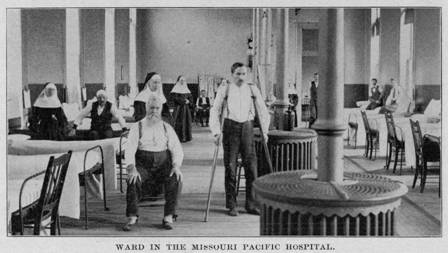 Most patients stayed in large open wards such as this one. Missouri Pacific, like many hospitals, had arrangements with an order of nuns
to provide nurses to care for the patients, even though the hospital was not operated by a religious organization.
A More Modern View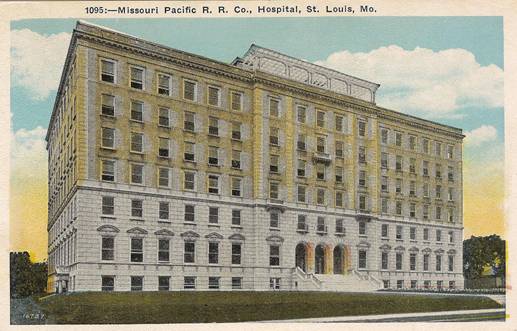 Missouri Pacific Hospital , 1755 S. Grand Blvd., St. Louis, MO (Postcard image).
This building is now the Anheuser-Busch Eye Institute of St. Louis University.
Missouri Pacific Hospital Brochure #1
This is a detailed brochure given to hospital patients.   It is undated but probably precedes brochure #2 below.  One section lists "Helpful Suggestions," such as "notify your folks of your safe arrival."  Most of these "suggestions" are hospital rules and policies.  This brochure provides several very rare interior views of a railroad hospital. 
Outside                                                                                                  Inside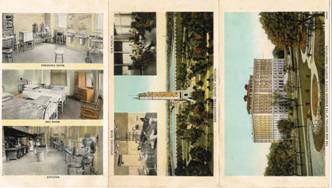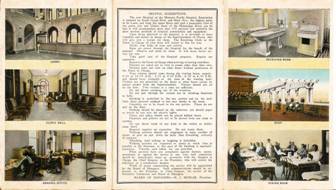 Below:  The inside of the brochure.
See a larger version of this picture                     A larger version of the "Helpful Suggestions" appears below.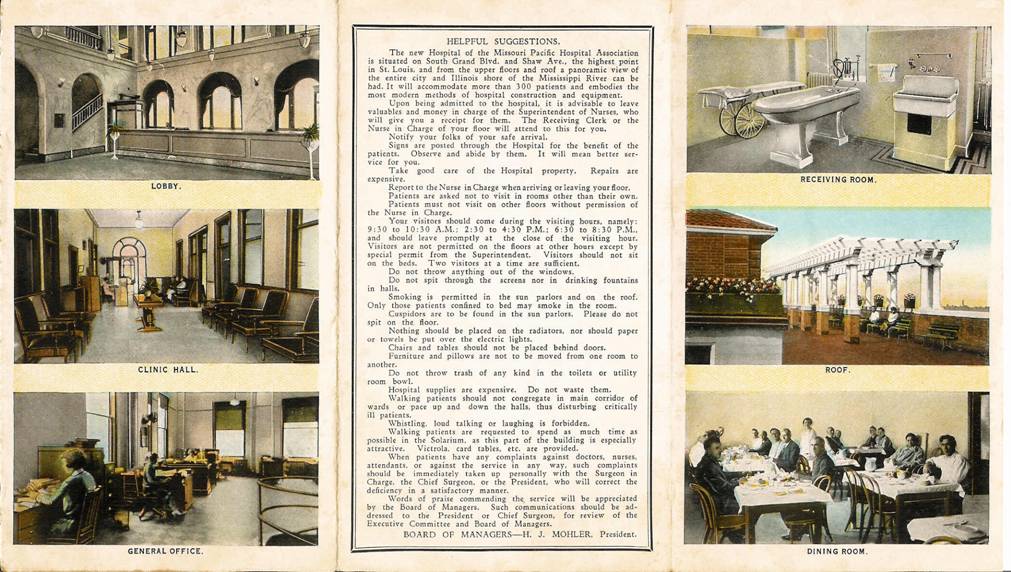 Below:  The top and middle panels of the outside of the brochure.  The bottom panel (not shown) depicts the exterior of the hospital and is identical to the picture labeled "Exterior view" in Brochure #2, below.
  
Below:  The "Helpful Suggestions" include some curious hospital rules, such as a ban on whistling or laughing.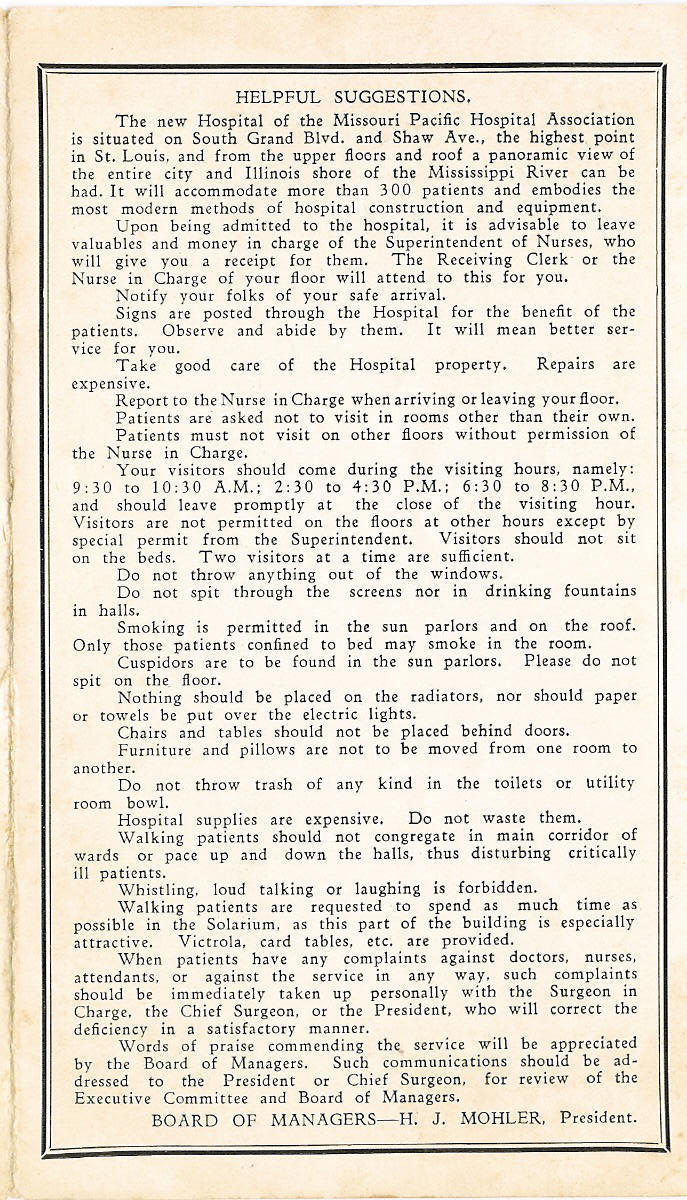 Missouri Pacific Hospital Brochure #2
This brochure, postmarked in 1966, appears to be a revised version of Brochure #1.  The brochure has been reduced from three folding sections to two, and most of the pictures have been removed.  It is printed on card stock, and one half of the brochure is a detachable postcard.  Whereas the previous version advised patients to "notify your folks of your safe arrival," this one actually provides a postcard with which to do so.  (Since railroads used regional hospitals which served large multi-state areas, patients might have traveled hundreds of miles to reach the hospital. Hospital rooms did not have phones in 1966, and long distance calls were very expensive.)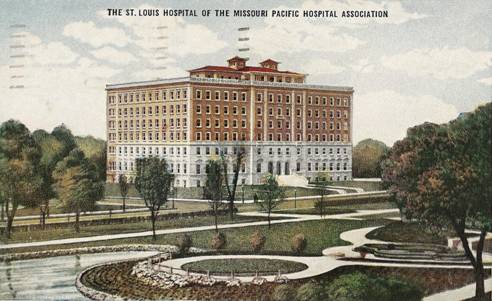 Exterior view:  When detached and mailed, the recipient would get this picture. The intact brochure is shown below.  The same picture appears in the earlier version (Brochure #1, above).
Below:  Front and back of Brochure #2, showing fewer pictures but new interior scenes.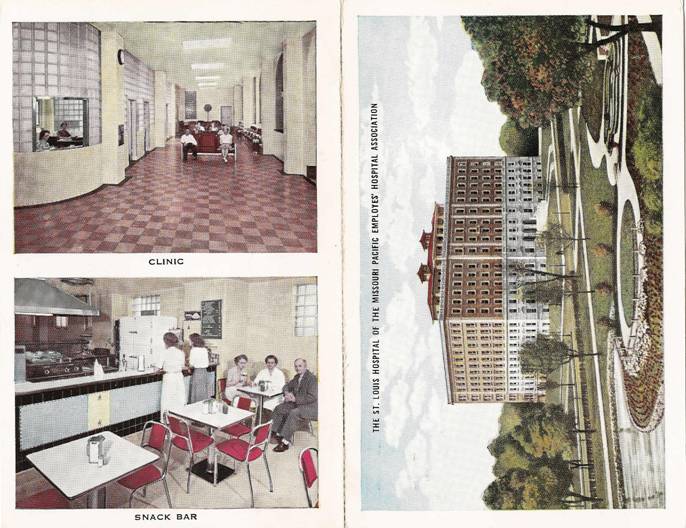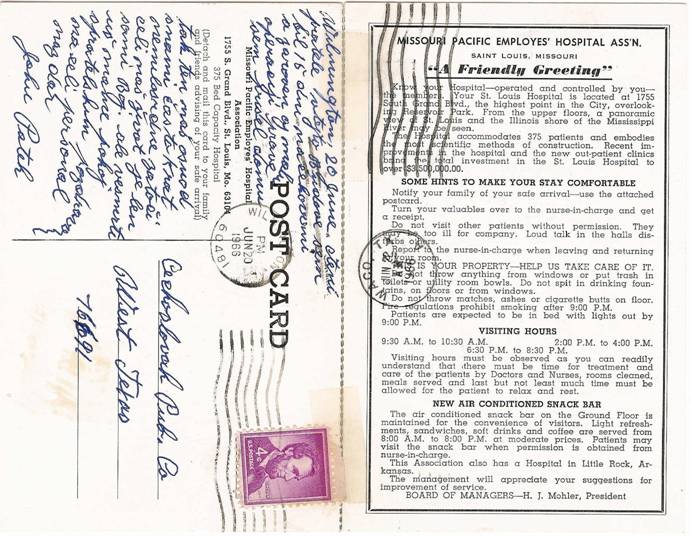 Luckily for historians, this patient did not detach the postcard, but mailed the whole brochure intact.  The zip code printed on the left half dates the brochure to 1963 or later, when zip codes were introduced.
Below, a close-up of the "Friendly Greeting." Although the hospital prohibits spitting out the windows and puts everyone to bed at 9:00 p.m., it appears that whistling and laughing are now legal.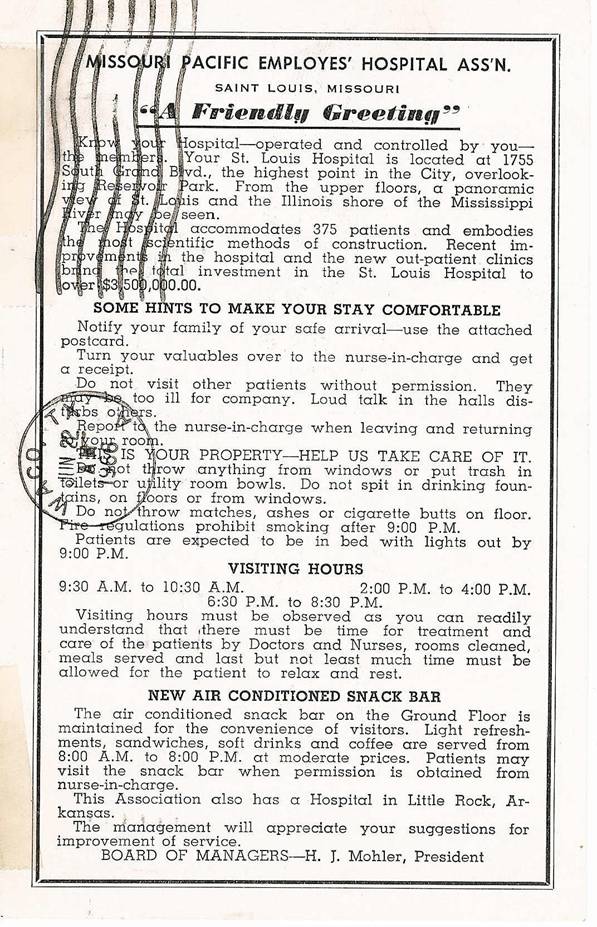 Back to Image Gallery Main Page Image Gallery: Hospital Postcards Image Gallery: Other Images Image Gallery: Artificial Limbs
Additional images appear on other pages of this website. To avoid redundancy, most of these are not included in the Image Gallery.
---
RailwaySurgery.org - Site Map
Home A Brief History of Railway Surgery A Detailed History of Railway Surgery Railway Surgeons and Vision/Hearing Testing
Army Hospital Trains List of Railroad Hospitals Image Gallery Become a Railway Surgeon Archives Where to Learn More About Us/Site News Blog