Welcome to
RailwaySurgery.org,
The Railway Surgery Historical Center!
This website is dedicated to preserving the history of railway surgeons and hospitals, and educating the public about their work and contributions to medicine.
What is railway surgery?
Very briefly, railway surgery was the medical specialty devoted to caring for railway employees, and sometimes non-employee family members or injury victims. A railway surgeon was a physician who practiced railway surgery. Railway surgeons provided a wide range of care including trauma care and occupational health services. They worked out of their own offices or at hospitals and clinics the railroads established.
For more information, start with A Brief History of Railway Surgery.

News Flash - New article coming out!

Trains in White, written by RailwaySurgery.org founder Dr. Robert Gillespie, was published in a November 2007 special edition of Classic Trains magazine titled Railroads and World War II. The article details the history of Army hospital trains from the Civil War through the Korean War. It was sold in larger newstands and bookstores and now is available online.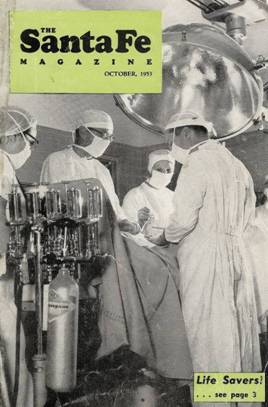 Learn more – Explore this Site!
Site contents:
A Brief History of Railway Surgery: A brief overview of railway surgeons and the railroad healthcare system.
A Detailed History of Railway Surgery: More detail and references for those interested in more depth.
Railway Surgeons and Vision/Hearing Testing: Railway surgeons' pioneering activities in promoting workplace safety through testing.
Army Hospital Trains: Military doctors also used medical trains, creating sophisticated rolling hospital units to care for thousands of injured soldiers.
List of Railroad Hospitals: See if there was one near you!
Image Gallery: More historical information with annotated vintage and modern photos and engravings of all things relating to railway surgery.
Become a Railway Surgeon: A tongue-in-cheek look at the process of becoming a railway surgeon.
Where to Learn More: References and resources for further information.
The Archive: Online archival material including books, journals, articles and documents.
About Us/Site News: Learn more about RailwaySurgery.org, its creator, Dr. Robert Gillespie, and how to contact us
Blog: The world's only railway surgery blog!
You are on train number
---
RailwaySurgery.org - Site Map
Home A Brief History of Railway Surgery A Detailed History of Railway Surgery Railway Surgeons and Vision/Hearing Testing
Army Hospital Trains List of Railroad Hospitals Image Gallery Become a Railway Surgeon Archives Where to Learn More About Us/Site News Blog